A common problem with lower-quality vinyl fencing is that the color fades over time due to weather and the harmful UV rays of the sun. White fences become dull and yellowed, and colored fences fade. Additionally, the clean, protective "sheen" of a new vinyl fence wears down to a dull haze.
SolarGuard® by ActiveYards is an exclusive technology, one of their proprietary "Ingenuities", that solves this problem.
Every fence made by ActiveYards is infused with their exclusive SolarGuard® color retention technology that helps deflect the harmful rays of the sun and will ensure your fence will retain its original color for years to come. JDH Fence and Deck is proud to offer this superior brand of vinyl fencing to our customers all across the Savannah region.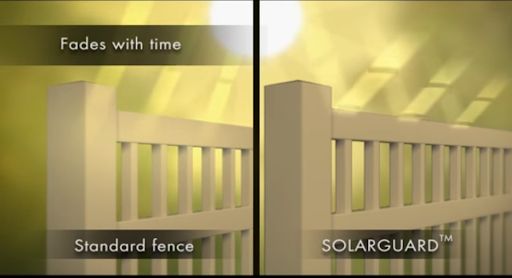 Other ActiveYards Ingenuities for Aluminum and Vinyl Fencing
ActiveYards has a number of additional technologies and processes, making their aluminum and vinyl fences some of the best on the market. Color protection, strength, and overall design are all enhanced with these technologies. See a full list and detailed descriptions of each of the ActiveYards Ingenuities for more details.
Authorized Dealer of ActiveYards Brand Fencing
JDH Fence and Deck is an authorized dealer of ActiveYards brand fencing in Savannah, Georgia. We're happy to show you all of the available styles and types of innovative, long-lasting fences by ActiveYards. If you have questions, our fence professionals are here to help you at (912) 748-1907 or contact us online for fast, friendly service!