One of the many ActiveYards' Ingenuity superstars is the StaySquare®  Gate System. This innovative technology was developed so vinyl gates quite literally "stay square", balanced, and secure for a lifetime.
StaySquare
®
 is Perfectly Strong
The StaySquare® Gate System is truly unique because there are no external fasteners, brackets, or visible screws like other vinyl fence brands use. Innovative "gate pockets" are inserted into the vinyl fence posts during the manufacturing process. These gate pockets provide a durable, strong balance and performance when the top and bottom rails are inserted into the pockets, holding it into place and preventing any damaging movement that could otherwise occur.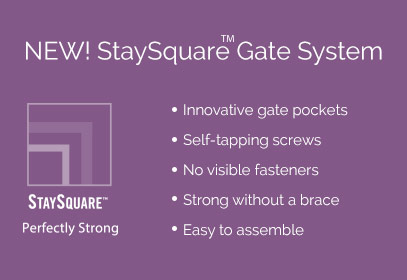 Work with JDH Fence, A Proud ActiveYards Dealer
As a top Savannah Georgia fence company, JDH Fence values our commercial and residential customers and is proud to offer the best vinyl fencing in the industry. We'd love to show you the innovative fence options by ActiveYards and get you started on your fence project.
If you have questions, our knowledgeable fence experts are here to help you at (912) 748-1907 or you can contact us online for fast, friendly service!